By far, this is the heaviest piece I have ever transported to my garage. Wow. It's huge. This post will give detailed info on how I painted it. For me, it's important to try something new with each piece of furniture. Whether it's a new paint color, new product or technique.... it's gotta be new. As artists, we stay fresh when we introduce something new with each piece. We learn, grow, and offer something unexpected to our friends and customers. Last note: I didn't change out the knobs although I didn't like these... too many of them to incur the cost.
Goal Practice glazing and staining the painted surface to achieve a velvety textured finish. I'm still learning but this piece allowed lots of opportunity to practice.
Materials - A dark maroon color for the undercoat. This will help get the rich depth of color. - Behr California Poppy - Behr Premium Plus Faux Glaze (I WOULD NOT recommend the Valspar (Lowes) brand. It takes forever to dry and is not as easy to work with) - Minwax Red Mahogany stain - Minwax Wipe-on Polyurethane - Lint-free staining pads - Clean old rags - a good paint brush
Process 1. Painted one coat homemade chalk paint using the dark maroon color. 2. Applied two coats of a custom tinted glaze using Behr California Poppy and Behr Premium Plus Faux Glaze. Mix these according to the instructions on the glaze container. 3. Applied Minwax stain in Red Mahogany on top then rubbed most of it off using old socks and various rags. This aged the piece and gave it lots of depth of color. The stain slips into the texture that was created by the loose paint brush marks and adds a rich depth to the finish. 4. Finished it by applying two coats of Minwax Wipe-on Polyurethane.
Paint brushing technique I painted with a loose hand, not in straight lines but in curvey x patterns. I used this application on the paint and glaze. When it came time to apply the stain, there were lots of paint brush "lines" for the stain to settle.  
I did another piece using a similar technique but instead of using stain, I used Annie Sloan dark wax.  Here's a detail shot
or on Facebook
Linking up to: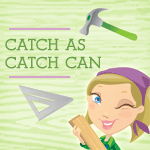 http://www.commonground-do.com/